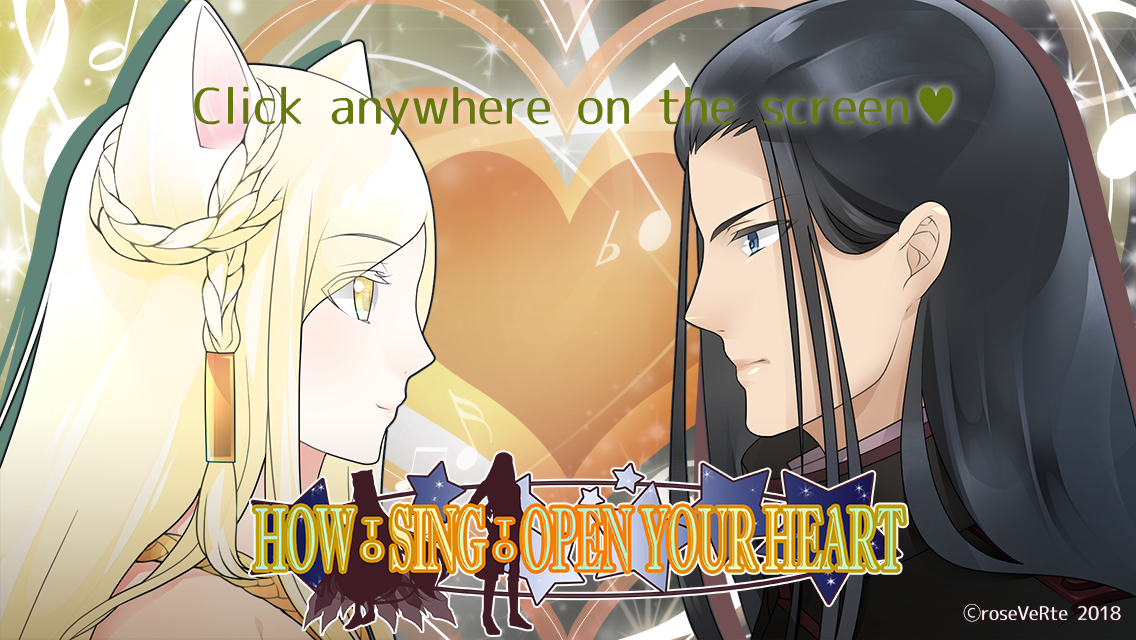 How to Sing to Open Your Heart
A downloadable game for Windows and macOS
A fully voiced romantic otome visual novel.
As a part of "Story of Eroolia" series, this game shares the same world with the previous "How to Take Off Your Mask" and "How to Fool a Liar King."
This time Princess Myana who appeared in "How to Fool a Liar King" will be the new heroine.
STORY
"Can the cat-eared princess' song rescue her people and find true love?"
Princess Myana loves to sing, and believes she can make her people happy with her song.
This time, she visits the human's country "Eroolia" as the leader of "Laarz", the country of cat people.
Relations between humans and luccretias have never been good, and Princess Myana experiences it herself in Eroolia.
Will her song be able to unite the hearts between humans and luccretias?
Or as the imperial guard captain, Ludovic, argues, is it better to completely cut off ties between the two countries?
CAST
Myana - Yuriko Yano
Ludovic - Roku Aine
Anna - Mai Hazuki
Regina - Megurika Kawanishi
Juli - Kon
Leona - Ryo Yuasa
Mars - Taichi Tanukida
Black Cat - Zakuroishi
Simon - Zex Flaga
Lilia/ Lio/ Aria - Eruru Takeda
Ronan - Mato Sarashina
Grandma - Hisano Numahata
Gao - Naoto Takeda
THEME SONG
"Kokouta"
Song: Yuki Yumeno
Lyrics: Itsumo Nagahisa
Music: no.realーRoom97
Purchase
In order to download this game you must purchase it at or above the minimum price of $11.99 USD. Your purchase comes with a Steam key. You will get access to the following files:
how-to-sing-to-open-your-heart-win-full-en.zip
411 MB
how-to-sing-to-open-your-heart-mac-full-en.zip
412 MB
how-to-sing-to-open-your-heart-themesong.zip
103 MB
if you pay $16.99 USD or more
Also available on
Download demo
Comments
Log in with itch.io to leave a comment.
What engine was this made in?
Hello, this is Gordon with one of the biggest Chinese game publishers. I was wondering where are your development team based? I am quite interested in your game and we'd like to have our professional team to play it, if it'd be suiable for us, we could offer a money guarantee and so on for cooperation.
Would mind if we test the game?
Let me know and my mail is zhangweiqi@bilibili.com/ I could also send you a detailed intro of our company, much appreciated.
I'm sorry but I think there are misunderstand in the first place. My game is a simple otome visual novel in English and Japanese language, not Chinese. Therefore there is no necessary to have professional Chinese team for play, and I don't understand why you will pay money to guarantee and others.
This game might be different with what you expected, and therefore you probably should try a different title.
Thanks for your news, and we actually sometimes do bring in visual novel games, but all depends on the game quality, I am afraid that I haven't played your game yet, but the garphics match our users' hobbies. After all, it is your call, I am OK to give it a go, let me know if you got any new plans for the game in the future. And much appreciated for the reply.
I think the biggest problem here is the language barrier.
I hardly understand what you say, and what you mean.
I somehow guess, that what you mean is something about publishing the game to Chinese market, but with the communication problem, this might cause bigger issue in future.
I'm very sorry but I need a more understandable and clear explanation in English.
Seriously, no matter how I see it, it smells like scam; as a Chinese myself, I can't stand looking at that guy's words (covering my eyes in shame). I think you could just ignore such people, completely.
About the game: Wow, it looks interesting, looking forward to your full release! ^ ^